Trying to find the perfect strap length has long frustrated musicians from all genres. The Levy's Right Height guitar strap makes it easier than ever to adjust the height of your instrument on the fly. This guitar strap's integrated RipChord technology eliminates the need to take your axe off to adjust your strap — a feature that gigging musicians love. To adjust the strap, just reach for the reinforced pull tab, pull down to tighten, and pull up to loosen. This strap features an ergonomic split body design to resist playing fatigue, suede backed shoulder pad, and leather strap ends. With the Right Height strap from Levy's, adjusting the height of your instrument has never been easier.
RipChord technology makes strap adjustments easier than ever
Traditionally, adjusting your strap involved taking your instrument off, adjusting your strap to where you think it should go, then putting it back on your shoulder. If that height wasn't right, repeat the process until it is. With Levy's Right Height straps, making adjustments is easy: pull up to loosen, pull down to tighten. Taking your guitar off your shoulder to adjust its height is a thing of the past.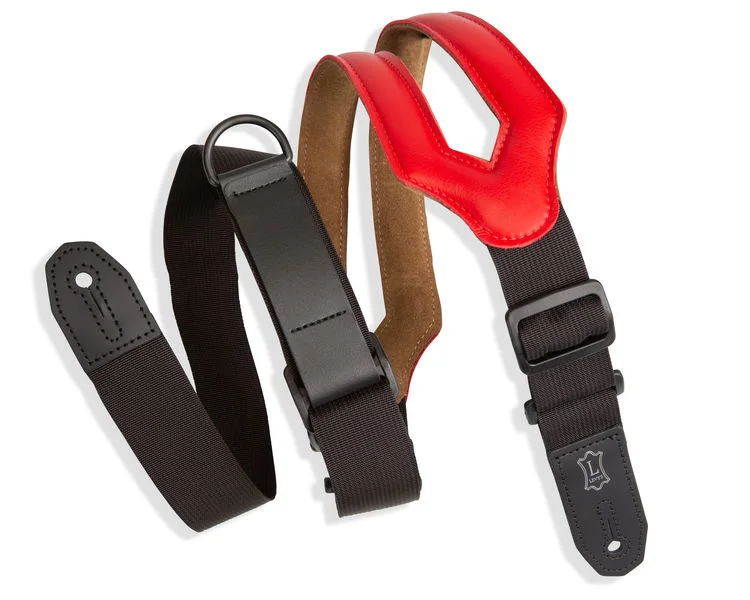 Levy's Right Height Guitar Strap Features:
RipChord technology allows you to adjust instrument position on the fly
Reinforced pull tab is easily accessible from all angles
Polyester webbing and tri-glide plastic loops allow for smooth and quick adjustments
Leather strap ends securely attach to your axe and increase strap life
Padded ergonomic design reduces playing discomfort
Stylish design looks great with any guitar
Strap adjusts from 44″ to 57″
Why Buy From Marshall Music
At Marshall Music, we're all passionate and highly experienced musicians that love what we do. Family run and family owned for over 35 years, we stock a huge variety of the very best brands in the world of musical instruments, music technology, professional audio and accessories. At Marshall Music, you'll get the right advice – exactly what you need to make the best possible purchasing decision. We'll do all we can to make sure you get the right thing at the right price as efficiently as possible – leaving you with a smile on your face!