An Upscale Version of Leo's Classic T-style
The Fullerton Deluxe ASAT Classic is an upscale version of Leo Fender's traditional single-cutaway bolt-on electric guitar. Made in Fullerton, California, this solidbody electric is built around a balanced-sounding alder body, while a Modern Classic-shaped hard-rock maple neck and smooth 9.5"-radius Caribbean rosewood fingerboard ensure super-comfortable playability. The Fullerton Deluxe ASAT Classic twangs, spanks, and clucks like it's nobody's business, thanks to a set of Leo Fender-designed Magnetic Field Design pickups, and when you switch to the neck position, it delivers round jazz tones that are sure to delight. The G&L Fullerton Deluxe ASAT Classic includes a bevy of top-shelf features, such as a classic boxed-steel bridge, sealed-back tuners, a bone nut, and an eye-grabbing multi-ply white pickguard.
Alder body yields a balanced musical tone
The Fullerton Deluxe ASAT Classic features a solid alder body — a tonewood prized for its balanced musical tone. This electric guitar's hard-rock maple neck boasts a Modern Classic profile, which includes a 1-11/16" nut width and 1-5/8" string spacing to enable a generous edge roll for maximum comfort without string fall-off. This ultra-comfortable neck is capped by an easy-playing 9.5"-radius Caribbean rosewood fingerboard that's guaranteed to put a smile on your face.
Leo Fender-designed pickups serve up a myriad of sonic textures
You can coax a myriad of sonic textures out of the G&L Fullerton Deluxe ASAT Classic. A pair of Leo Fender-designed single-coil Magnetic Field Design pickups house extra-thick bar magnets that emit ultra-tight magnetic fields. This design produces a massive amount of energy around the coil, ensuring super-strong output and a muscular, percussive attack. The neck pickup is brighter, more powerful, and clearer than traditional alnico T-style neck single-coils, while the bridge pickup offers all the twang, spank, and cluck you can handle. Magnetic Field Design pickups also feature individually adjustable pole pieces to give you complete control over your tone. Whether you're craving crisp, complex harmonics or smooth, round jazz tones, the Fullerton Deluxe ASAT Classic will do it.
Leo's favorite creations
After founding two hugely successful guitar brands and consulting on the side, Leo Fender felt that he had unfinished business in the guitar world. Together with partner George Fullerton, G&L opened for business in 1979 and incorporated innovative design elements into their instruments, such as the Magnetic Field Design pickups, Dual-Fulcrum Vibrato, Saddle-Lock Bridge, and Bi-cut neck design. Leo was so proud of his new instruments that he famously declared that G&L's "are the best instruments I have ever made." Play a G&L today and experience the magic for yourself.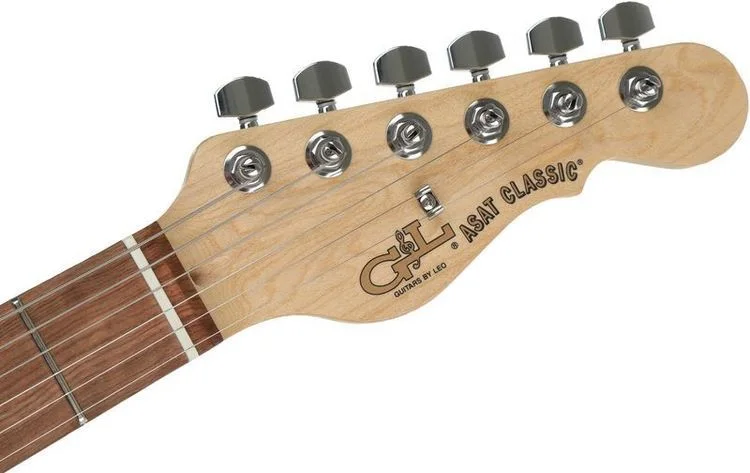 Features:
Upscale version of Leo Fender's traditional single-cutaway bolt-on electric guitar
Solid alder body exhibits a balanced-sounding tonewood with equal doses of highs, mids, and lows
Hard-rock maple neck boasts a comfortable Modern Classic profile
Easy-playing 9.5"-radius Caribbean rosewood fingerboard
Leo Fender-designed single-coil Magnetic Field Design pickups yield strong output and a muscular, percussive attack
Classic boxed-steel bridge with individual brass saddles for vintage-style sustain and spot-on intonation
12:1-ratio, sealed-back tuners ensure reliable tuning stability
Natural bone nut maximizes your tone and provides first-rate sustain
Eye-grabbing multi-ply white pickguard
Made in Fullerton, California