The Mustang Micro headphone amp/audio interface is the simplest way to get your hands on Fender's next-level Mustang GTX amp and effects models. Whether you're jamming at home, tracking in the studio, or even gigging out on the weekend, this tone-loaded processor is all you need to get great guitar tone. Hands-on controls for EQ, amps, and effects eliminate the need for software control. And when it's time to take your music on the road, the Mustang Micro's articulating plug (compatible with both Strat- and Tele-style electrics) folds flat for easy storage in a front pocket. Unlike other headphone amps, the Mustang Micro features an onboard rechargeable lithium-ion battery to keep you juiced up on the go. Guitarists report an average of 4–6 hours of battery life per charge — plenty to get you through a weekend gig or worship set. What's also unique is that the Mustang Micro is itself a USB-C interface. This feature lets you capture those hard-worked stereo guitar tones in the studio without any special cables and without incurring any loss in quality. Factor in Bluetooth audio streaming with automatic A/V sync for song learning and cover creations, and the Fender Mustang Micro headphone amp is one piece of gear that no guitarist will want to be without.
Note: Not compatible with Bluetooth headphones. Hard-wired headphones are required.
12 amps, 13 effects
From creamy Texas-flavored cleans to extreme metal gains, the Mustang Micro has you covered for a wide range of musical styles. Onboard you'll find 12 amps and 13 effect models derived from Fender's Mustang GTX lineup. Amps and FX can be accessed directly from the unit, which takes the Mustang Micro beyond the studio walls and onto stages and worship platforms on command.
1/8-inch headphone out
Thanks to its standard 1/8-inch output, the Mustang Micro is compatible with all your favorite studio headphones and wired in-ear monitors.
Bluetooth audio streaming
Want to jam along with tunes from your music library or favorite streaming service? The Mustang Micro supports Bluetooth audio streaming and features automatic A/V sync, making this a great tool for practicing scales, learning songs, and even filming guitar covers.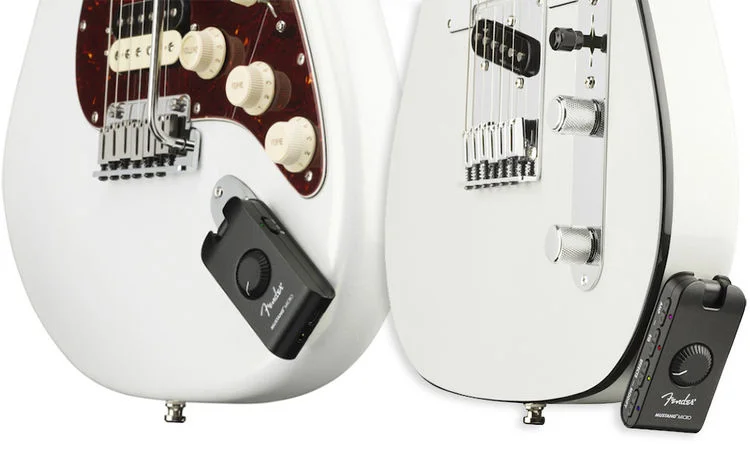 Audio over USB
A zippy USB-C connection injects your favorite Mustang Micro guitar tones into your recording session, in all their stereo glory. Just plug in and play.
Firmware updates
Fender is constantly updating its Mustang GTX ecosystem with sweeter amps and cooler effects. Firmware updates over USB ensure your Mustang Micro stays up to date with the latest models and most stable operating systems.
4-hour rechargeable battery
You won't burn through disposable batteries when you're rocking the Fender Mustang Micro. An internal rechargeable lithium-ion battery gives you 4–6 hours of jam time per charge. Just remember to plug it in once a week or after an intense woodshedding session.
Fender Mustang Micro Headphone Amplifier Features:
All-in-one headphone amp and USB audio interface
The easiest way to get your hands on Fender's GTX amp and stomp models
Includes 12 amps and 13 effects types
Hands-on Amp, EQ, Effects, and Volume controls
Rechargeable lithium-ion battery
Gives you 4–6 hours of continuous performance per charge
Articulating plug is compatible with most guitars and basses
Folds down for easy storage in a front pocket
Bluetooth audio streaming from mobile devices with automatic A/V sync
1/8-inch headphone output works with your studio headphones and wired in-ears
Not compatible with Bluetooth headphones. Hard-wired headphones are required.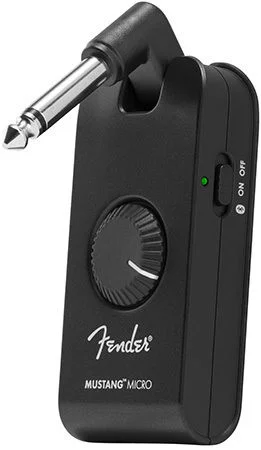 Why Buy From Marshall Music
At Marshall Music, we're all passionate and highly experienced musicians that love what we do. Family run and family owned for over 35 years, we stock a huge variety of the very best brands in the world of musical instruments, music technology, professional audio and accessories. At Marshall Music, you'll get the right advice – exactly what you need to make the best possible purchasing decision. We'll do all we can to make sure you get the right thing at the right price as efficiently as possible – leaving you with a smile on your face!